A selection of our children's beds suitable for toddlers to teenagers. Bunk beds to midi sleepers, with useful storage solutions. Please contact us for further product options if you cannot see them here.
---
Colonial Bunk Bed
The Colonial Bunk Bed has been crafted using hard-wearing pine and is available in two beautifully finished colours, Honey or Waxed. It features a ladder and safety rails on the top bunk. The Colonial Bunk Bed can also be split into two single beds when your children grow up and want separate beds and separate bedrooms. Available in two sizes: Single 3'0 or Small Single 2'6.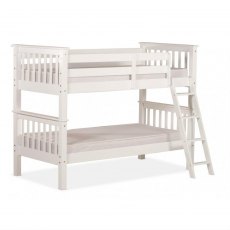 Oxford Bunk Bed
The Oxford Bunk Bed comes with a traditional styled frame and trim and is finished beautifully with a painted white coat. Made from wood, this bunk bed is built to last with its great stability. It also features a ladder and rails for the top bunk which would provide you with peace of mind, making it perfectly suited for any child's bedroom.